Though neuroscience has ascended to impressive pinnacles, allowing minds to be thoroughly scanned, mapped, and emulated as software, the transhuman brain remains a place that is complicated, not fully understood, and thoroughly messy. Despite a prevalence of neural modifications, meddling with the seat of consciousness remains a tricky and hazardous procedure. Nevertheless, psychosurgery—editing the mind as software—remains common and widespread, sometimes with unexpected results.
Likewise, even as the knowledge of neuroscientists grows on an exponential basis, some are discovering that minds are far more mysterious than they had ever imagined. During the Fall, scattered reports of "anomalous activity" by individuals infected by one of the numerous circulating nanoplagues were discounted as fear and paranoia, but subsequent investigations by black-budget labs has proven otherwise. Now, top-level confidential networks whisper that this infection inflicts intricate changes in the victim's neural network that imbue them with strange and inexplicable abilities. The exact mechanism and nature of these abilities remains unexplained and outside the grasp of modern transhuman science. Given the evidence of a new brainwave type and the paranormal nature of this phenomenon, it is loosely referred to as "psi."
Psi
In Eclipse Phase, psi is considered a special cognitive condition resulting from infection by the mutant—and hopefully otherwise benign—Watts-Macleod strain of the Exsurgent virus. This plague modifies the victim's mind, conferring special abilities. These abilities are inherent to the brain's architecture and are copied when the mind is uploaded, allowing the character to retain their psi abilities when changing from morph to morph.
Prerequisites
To wield psi, a character must acquire the Psi trait during character creation. It is theoretically also possible to acquire the use of psi in game via infection by the Watts-MacLeod strain.
Psi ability is considered an innate ability of the ego and not a biological or genetic predisposition of the morph. While psi researchers do not understand how it is possible to transfer this ability via uploads, backups, and farcasting, it has been speculated that all components of an async's ego are entangled on a quantum level, or that they possess the ability to entangle themselves or form a unique conformation or alignment as a whole even after they have been copied, up-, or downloaded. This speculated entanglement process is also thought to be the origin of the impairment that asyncs experience when adapting to a new morph (see below).
Morphs and Psi
Asyncs require a biological brain to draw on their abilities (the brains of uplifted animals count). An async whose ego is downloaded into an infomorph or fully computerized brain (synthmorphs) has no access to their abilities as long they remain in that morph. Asyncs inhabiting a pod morph may use psi, but their abilities are restricted as pod brains are only partly biological. Pod-morphed asyncs suffer a –30 modifier on all tests involving the use of psi sleights and the impact from using sleights would be doubled.
Morph Acclimatization
Async minds undergo extra difficulty adjusting to new morphs. For 1 day after the character has resleeved, they will suffer the effects of a single derangement. The gamemaster and player should choose a derangement appropriate to the character and story. Minor derangements are recommended, but at the gamemaster's discretion moderate or major derangements may be applied. No trauma is inflicted with this derangement.
Morph Fever
Asyncs find it irritating and traumatizing to endure life as an infomorph, pod, or synthmorph for long periods of time. This phenomenon, known as morph fever, might cause temporary derangements and trauma to the asyncs' ego, possibly even to the grade of permanent disorders. If stored or held captive as an active infomorph (i.e. not in virtual stasis), the async might go insane if not psychologically aided by some sort of anodyne program or supporting person during storage. In game terms, asyncs take 1d10 ÷ 2 (round up) points of mental stress damage per month they stay in a pod, synthmorph or infomorph form without psychological assistance by a psychiatrist, software, or muse.
Psi Drawbacks
There are several drawbacks to psi ability:
The variant Exsurgent strain that endows psi ability rewires the character's brain. An unfortunate side effect to this change is that asyncs acquire a vulnerability to mental stress. Reduce the async's Trauma Threshold by 1.
The mental instability that accompanies psi infection also tends to unhinge the character's mind. Asyncs acquires one Mental Disorder negative trait for each level they have of the Psi trait without receiving any bonus CP. The gamemaster and player should agree on a disorder appropriate to the character. This disorder may be treated over time, according to normal rules (see Mental Healing and Psychotherapy).
Characters with the Psi trait are also vulnerable to infection by other strains of the Exsurgent virus. The character suffers a –20 modifier when resisting Exsurgent infection.
Critical failures when using psi tend to stress the async's mind. Each time a critical failure is rolled when making a sleight-related test, the async suffers a temporary brain seizure. They suffer a –30 modifier and are incapable of acting until the end of the next Action Turn. They must also succeed in a WIL + COG Test or fall down.
Psi Skills and Sleights
Transhuman psi users can manipulate their egos and otherwise create effects that can often be neither matched nor mimicked by technological means. To use these abilities, they train their mental processes and practice cognitive algorithms called sleights, which they can subconsciously recall and use as necessary. Sleights fall into two categories: psi-chi (cognitive enhancements) and psi-gamma (brainwave reading and manipulation). Psi-chi sleights are available to anyone with the Psi trait, but psi- gamma sleights are only available to characters with the Psi trait at Level 2. In order to use these sleights, the async must be skilled in the Control, Psi Assault, and/or Sense skills, as appropriate to each sleight.
Roleplaying Asyncs
Any player who chooses to play an async should keep the origin of their abilities in mind: Watts-MacLeod strain infection. The character may not be aware of this source, but they undoubtedly know that they underwent some sort of transformation and have talents that no one else does. If unaware of the infection, they have likely learned to keep their abilities secret lest they be ridiculed, attacked, or whisked away to some secret testing program. Learning the truth about their nature could even be the starting point of a campaign and/or their introduction to Firewall. If they know the truth, however, the character must live with the fact that they are the victim of a nanoplague likely spread by the TITANs that may or may not lead to complications, side effects, or other unexpected revelations in their future. Gamemasters and players should make an effort to explore the nature of this infection and how the character perceives it. As noted previously, asyncs are often profoundly-changed people. The invasive and alien aspect of their abilities should not be lost on them. For example, an async might conceive of their psi talents as a sort of parasitic entity, living off their sleights, or they might feel that using these powers puts them in touch with some sort of fundamental substrate of the universe that is weird and terrifying. Alternately, they could feel as if their personality was melded with something different, something that doesn't belong. Each async is likely to view their situation differently, and none of them pleasantly.
Sidebar: The Lost
//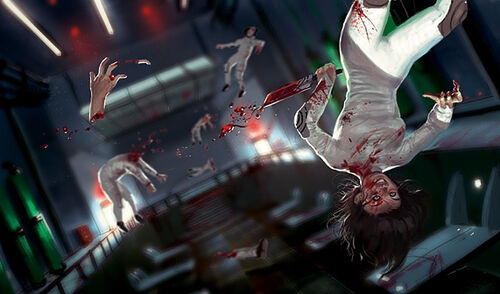 <begin excerpt>//
//PSICLONE Project Quarterly Board Meeting//
//2nd Quarter 8 AF//
//FUTURA Project Conclusion—//
//Executive Summary Report//
//Prepared by Dr. Amelia Sheppard//
Per request, I have compiled a review of the Futura Project and its fallout, 5 years after whistleblowers and intense media attention forced us to end the project and release the remaining subjects (dubbed "the Lost" by popular media).
Futura was a joint initiative spearheaded by Hanto Genomics and strongly backed by Cognite, with numerous other partners (complete list). The project was initially proposed by my mentor, Dr. Antonio Pascal, whose team had proven the feasibility of Accelerated Life Experience Training (ALET) after a series of pilot studies with two small (N<1000) samples. While it is true that these early pilot studies used both older subjects and a lesser amount of time dilation, the rationale for the Futura Project's ambitious program was justified by a remarked decrease in transhumanity's population due to the Fall, a system-wide stagnant population growth rate (blamed on various factors including increased longevity, available contraception, and rising despair over troubling times), as well as a desire to move aggressively into a new technological sector in the hopes of obtaining a competitive advantage.
Futura began immediately in the wake of the Fall with an initial seed population of test subjects culled from extant genetic material and gestated to between 1 week and 6 months after birth. Of these, less than 10% were live births from either a surrogate or genetic birth mother who had perished during the Fall. The majority came from our Lunar and Martian labs and were brought to term within an exowomb.
After the sample was selected, all subjects were sleeved into our fast-growth futura-brand biomorph bodies and inducted into customized simulspace accelerated learning environments. The project made extensive use of emergent technologies and techniques culled from recaptured TITAN facilities, including neogenetic traits for the futura morphs and time distortion applications for captive simulspace populations. Futura ran concurrently on three different research stations with a combined staff of 2,211 researchers and support personnel and 45 AGIs custom-programmed for expert child development. Project goals were to raise each child to a subjective 18 years life experience in 3 years objective time.
Despite omnipresent observation and real-time adjusting of the simulspace and educational programming for optimal normality, somewhere along the way the project suffered a breakdown in quality assurance and parameter monitoring that resulted in a near total failure at empathy modeling. We first observed this effect 11 months into the project when the subjects had aged to approximately 6 years of age. Incidences of animal cruelty and acting out had spiked, though at that time they remained within acceptable standards. Over the next few months this trend continued and Dr. Pascal authorized the usage of more authoritative "parenting" to attempt to correct for the borderline sociopathic behavior that was being exhibited by 23.19% of all subjects by the 18-month mark (9 years of age). We now know that these changes had the unintended consequence of suppressing overt displays of cruelty and violence and merely taught the majority of subjects how to conceal their psychoses. It was also at this time that the fi rst deaths occurred. The initial waves were thought to be accidents and both the victim and perpetrator were usually backed up to a week or so of subjective time. Post-project analysis now shows that 43.87% of our subjects had engaged in at least one act of premeditated murder by the 24-month mark (12 years of age) and the counseling protocols were only training them how to lie more effectively.
It was at this point that myself and Dr. Aaron Bharani advocated pulling the plug on the project and bringing the subjects out to real time and intensive counseling. Dr. Pascal vetoed our concerns without ever taking them to the board. As the project spiraled towards its conclusion, a fork of Dr. Bharani went public at the 34 month mark, inciting a firestorm of controversy. While Dr. Pascal successfully tied up investigators, hoping to see the project through to its conclusion, the incident at our Legacy research station occurred. Initial findings concluded that one or more of the subjects had escaped the program and were in fact responsible for the habitat's environmental failures and the thousands of subsequent deaths. In the face of intense public and private scrutiny, many of the partners involved in the project attempted to pull out and even eliminate all traces of their involvement. In the resulting chaos, an estimated subjects were quietly released into the system's general population. It was only after this occurred that all known subjects were identified as having been infected with the Watts-Macleod strain of the Exsurgent virus, though when and how this occurred remains troubling and unclear. Though later orders resulted in all remaining subjects being euthanized and/or backed up into cold storage, only of the released subjects were recaptured. Of the rest, pursued sanctuary with sympathetic authorities, went public and submitted themselves to extensive psychotherapy, were killed in incidents of violence and not resurrected, and the rest presumably went into hiding.
//<end excerpt>//
Using Psi
Using psi—i.e., drawing on a certain sleight to procure some kind of effect—does not always require a test. Each sleight description details how the power is used.
Active Psi
Active psi sleights must be "activated" to be used. These sleights usually require a skill test. Sleights that target other sentient beings or life forms are always Opposed Tests, while others are handled as Success Tests. The level of concentration required to use these sleights varies, and so may call for a Quick, Complex, or Task Action. Active sleights also cause strain to the async. Most psi-gamma sleights fall into this category. Active sleights count as mental actions for characters who have augmentations that grant extra mental actions. Due to the concentration required, however, active psi-gamma sleights cannot be used in the same Action Phase with other mental actions that require a Complex Action.
Passive Psi
Passive psi sleights encompasses abilities that are considered automatically active and subconscious. They rarely require an action to be activated and require no effort or strain by the psi user. Passive sleights typically add bonuses to various activities or allow access to certain abilities rather than calling for some kind of skill test. Most psi-chi sleights fall into this category.
Psi Range
Sleights have a Range of either Self, Touch, or Close.
Self: These sleights only affect the async.
Touch: Sleights with a Touch range may be used against other biological life, but the async must have physical contact with the target. If the target avoids being touched, this requires a successful melee attack, applying the touch-only +20 modifier. This attack does not cause damage, and is considered part of the same action as the psi use.
Close: Close sleights involve interaction with other biological life from a short distance. The optimal distance is within 5 meters. For each meter beyond that, apply a –10 modifier to the test.
Psi vs. Psi: Due to the nature of psi, sleights are more effective against other psi users. Sleights with a range of Touch may be used from a Close range against another async. Likewise, a sleight with a Close range may be used at twice the normal distance (10 meters) when wielded on another async.
Targeting
Synthmorphs, bots, and vehicles may not be targeted by psi sleights, as they lack biological brains. Pods—with brains that are half biological and half computer—are less susceptible and receive a +30 modifier when defending against psi use. Note that infomorphs may never be targeted by psi sleights as psi is not effective within the mesh or simulspace.
Multiple Targets: An async may target more than one character with a sleight with the same action, as long as each of them can be targeted via the rules above. The psi character only rolls once, with each of the defending characters making their Opposed Tests against that roll. The psi character suffers strain for each target, however, meaning that using psi on multiple targets can be extremely dangerous.
Animals and Less Complex Life Forms: Psi works against any living creature with a brain and/or nervous system. Against partially-sentient and partially-uplifted animals, it suffers a –20 modifier and increases strain by +1. Against non-sentient animals, it suffers a –30 modifier and increases strain by +3. It has no effect on or against less complex life forms like plants, algae, bacteria, etc.
Factors and Aliens: At the gamemaster's discretion, psi sleights may not work on alien creatures at all, depending on their physiology and neurology. If it does work, it is likely to suffer at least a –20 modifier and +1 strain.
Opposed Tests
Psi that is used against another character is resisted with an Opposed Test. Defending characters resist with WIL x 2. Willing characters may choose not to resist. Unconscious or sleeping characters cannot resist.
If the psi-wielding character succeeds and the defender fails, the sleight affects the target. If the psi user fails, the defender is unscathed. If both parties succeed in their tests, compare their dice rolls. If the psi user's roll is higher, the sleight bypasses the defender's mental block and affects the target; otherwise, the sleight fails to affect the defender's ego.
Target Awareness
The target of a psi sleight is aware they are being targeted any time they succeed on their half of the Opposed Test (regardless on whether the async rolls higher or not). Note that awareness does not necessarily mean that the target understands that psi abilities are being used on them, especially as most people in Eclipse Phase are unaware of psi's existence. Instead, the target is simply likely to understand that some outside influence is at work, or that something strange is happening. They may suspect that they have been drugged or are under the influence of some strange technology.
Targets who fail their roll remain unaware.
Psi Full Defense
Like full defense in physical combat, a defender may spend a Complex Action to rally and concentrate their mental defenses, gaining a +30 modifier to their defense test against psi use until their next Action Phase.
Criticals
If the defender rolls a critical success, the character attempting to wield psi is temporarily locked out of the target's mind. The psi user may not target that character with sleights until an appropriate "reset" period has passed, determined by the gamemaster. If the async rolls a critical failure, they suffer temporary incapacitation as their mind dysfunctions in some harsh and distressing ways.
If a psi user rolls a critical success against a defender, or the defender rolls a critical failure, double the potency of the sleight's effect. In the case of psi attacks, the DV can be doubled or mental armor can be bypassed. Alternately, when using Psi Assault, the targeted character may be in danger of infection by the Watts-Macleod strain.
Mental Armor
The Psi Shield sleight provides mental armor, a form of neural hardening against psi-based attacks. Like physical armor, this mental armor reduces the amount of damage inflicted by a psi assault.
Duration
Psi sleights have one of four durations: constant, instant, temporary, or sustained.
Constant: Constant sleights are always "on."
Instant: Instant sleights take effect only in the Action Phase in which they are used.
Temporary: Temporary sleights last for a limited duration with no extra effort from the async. The temporary duration is determined by the async's WIL ÷ 5 (round up) and is measured in either Action Turns or minutes, as noted. Strain for the sleight is applied immediately when used, not at the end of the duration.
Sustained: Sustained sleights require active effort to maintain for as long as the async wants to keep it active. Sustaining a sleight requires concentration, and so the async suffers a –10 modifier to all other skill tests while the sleight is sustained. The async must also stay within the range appropriate to the sleight, otherwise the sleight immediately ends. More than one sleight may be sustained at a time, with a cumulative modifier. Strain for the sleight is applied immediately when used, not at the end of the duration. At the gamemaster's discretion, sleights that are sustained for long periods may incur additional strain.
Strain
The use of psi is physically (and sometimes psychologically) draining to a psi user. This phenomenon is known as strain, and manifests as fatigue, exhaustion, pain, neural overload, cardiovascular stress, and adynamia (loss of vigor). Though strain has only rarely been known to actually kill an async, the use of too much active psi can be life-threatening in some circumstances.
In game terms, every active sleight has a Strain Value of 1d10 ÷ 2 (round up) DV. Every active sleight lists a Strain Value Modifier that modifies this amount. For example, a sleights with a Strain Value Modifier of –1 inflicts (1d10 ÷ 2) –1 DV. If the damage points suffered from strain exceed the character's Wound Threshold, they may inflict a wound just like other damage.
Example
Matric is investigating a disappearance, so he decides to use his Qualia sleight to boost his Intuition while hunting for clues. That psi-chi sleight takes only a Quick Action to initiate and requires no test. Matric's WIL is 25, so the duration of this temporary sleight is 5 Action Turns (25 ÷ 5 = 5). The sleight's Strain modifier is –1, so he is facing (1d10 ÷ 2) –1 DV. He rolls a 1, so he takes no strain at all!
Later on, Matric finds himself in a life-or-death struggle with a kidnapper. Lucky for Matric, they're in a melee, so he's close enough to try and touch his opponent. On his Action Phase, he makes an Unarmed Combat Test with a +20 modifier (for a touch-only attack) and succeeds. This allows him to try and use his Psychic Stab sleight. He rolls his Psi Assault of 57 against the target's WIL × 2 (32). His target is in a worker pod morph, however, which is less susceptible to psi, so he receives a +30 modifier (32 + 30 = 62). Matric rolls a 32 and the worker pod a 64—Matric wins!For damage, he rolls 1d10 + (WIL ÷ 10). His WIL is 25, so that's 1d10 + 3. He rolls a 7 and inflicts 10 (7 + 3) points of damage. The worker pod screams in pain, suffering a wound from the psychic assault.
Psi Chi Sleights
Psi-chi sleights are async abilities that speed up cognitive informatics (internal information processing) and enhance the user's perception and cognition.
Ambience Sense
Psi Type: Passive
Action: Automatic
Range: Self
Duration: Constant
This sleight provides the async with an instinctive sense about an area and any potential threats nearby. The async receives a +10 modifier to all Investigation, Perception, Scrounging, and Surprise Tests.
Cognitive Boost
Psi Type: Active
Action: Quick
Range: Self
Duration: Temp (Action Turns)
Strain Mod: –1
The async can temporarily elevate their cognitive performance. In game terms, Cognition is raised by 5 for the chosen duration. This boost to Cognition also raises the rating of skills linked to that aptitude.
Downtime
Psi Type: Active
Action: Task (min. 4 hours)
Range: Self
Duration: Sustained
Strain Mod: 0
This sleight provides the async with the ability to send the mind into a fugue-state regenerative downtime, during which the character's psyche is repaired. The async must enter the downtime for at least 4 hours; every 4 hours of downtime heals 1 point of stress damage. Traumas, derangements, and disorders are unaffected by this sleight. For all sensory purposes, the async is catatonic during downtime, completely oblivious to the outside world. Only severe disturbances or physical shock (such as being wounded or hit by a shock weapon) will bring the async out of it.
Eco-Empathy
Psi Type: Active
Action: Complex
Range: Self
Duration: Instant
Strain Mod: –1
An async with this sleight can attempt to gain an intuitive understanding of non-sentient, non-terrestrial organisms occupying a producer niche in the local ecosystem (e.g., alien plant and fungus analogues). If the character succeeds in a COG x 2 Test, they gain a basic understanding of the organism's place in the local ecosystem, as well as whether it's safe and nutritious for transhuman consumption. The information gained is of a general and qualitative nature and doesn't include any data that would normally be gained by chemical or genetic analysis. For example, an eco-empathic async could tell that a given plant thrives only in riparian zones, relies on local insect analogs for pollination, and has tubers that become edible if well cooked. They would not be able to tell that the same plant has over a thousand chromosomes, that it exudes a chemical that is physically addicting to the insects, or that the tubers contain high concentrations of a toxic lectin that breaks down and becomes harmless if boiled.
Emotion Control
Psi Type: Passive
Action: Automatic
Range: Self
Duration: Constant
Emotion Control gives the async tight control over their emotional states. Unwanted emotions can be blocked out and others embraced. This has the benefit of protecting the async from emotional manipulation, such as the Drive Emotion sleight or Intimidation skill tests. The async receives a +30 modifier when defending against such tests.
Enhanced Creativity
Psi Type: Passive
Action: Automatic
Range: Self
Duration: Constant
An async with Enhanced Creativity is more imaginative and more inclined to think outside the box. Apply a +20 modifier to any tests where creativity plays a major role. This level of ingenuity can sometimes seem strange and different, manifesting in odd or creepy ways, especially with artwork.
Filter
Psi Type: Passive
Action: Automatic
Range: Self
Duration: Constant
Filter allows the async to filter out out distractions and eliminate negative situational modifiers from distraction, up to the gamemaster's discretion.
Grok
Psi Type: Active
Action: Complex
Range: Self
Duration: Instant
Strain Mod: –1
By using the Grok sleight, the async is able to intuitively understand how any unfamiliar object, vehicle, or device is used simply by looking at and handling it. If the character succeeds in a COG x 2 Test, they achieve a basic ability to use the object, vehicle, or device, no matter how alien or bizarre. This sleight does not provide any understanding of the principles or technologies involved—the psi user simply grasps how to make it work. If a test is called for, the psi user receives a +20 modifier to use the device (this bonus only applies to unfamiliar devices, and/or tests the character is defaulting on—it does not apply to devices the character is familiar with).
High Pain Threshold
Psi Type: Passive
Action: Automatic
Range: Self
Duration: Constant
This sleight allows the async to block out, ignore, or otherwise isolate pain. The async reduces negative modifiers from wounds by 10.
Hyperthymesia
Psi Type: Passive
Action: Automatic
Range: Self
Duration: Constant
Hyperthymesia grants the async a superior autobiographical memory, allowing them to remember the most trivial of events. A hyperthymestic async can be asked a random date and recall the day of the week it was, the events that occurred that day, what the weather was like, and many seemingly trivial details that most people would not be able to recall.
Instinct
Psi Type: Passive
Action: Automatic
Range: Self
Duration: Constant
Instinct bolsters the async's subconscious ability to gauge a situation and make a snap judgment that is just as accurate as a careful, considered decision. For Task Actions that involve analysis or planning alone (typically Mental skill actions), the async may reduce the timeframe by 90% without suffering a modifier. For Task Actions that involve partial analysis/planning, they may reduce the timeframe by 30% without penalty.
Multitasking
Psi Type: Passive
Action: Automatic
Range: Self
Duration: Constant
The async can handle vast amounts of information without overload and can perform more than one mental task at once. The character receives an extra Complex Action each Action Phase that may only be used for mental or mesh actions.
Pattern Recognition
Psi Type: Passive
Action: Automatic
Range: Self
Duration: Constant
The character is adept at spotting patterns and correlating the non-random elements of a jumble—related items jump out at them. This is useful for translating languages, breaking codes, or find clues hidden among massive amounts of data. The character must have a sufficiently large sample enough time to study, as determined by the gamemaster. This might range from a few hours of listening to a spoken transhuman language to a few days of investigating inscriptions left by long-dead aliens to a week or more of researching a lengthy cipher. Languages may be comprehended by reading or listening to them being spoken. Apply a +20 modifier to any appropriate Language, Investigation, Research, or code-breaking Tests (note that this does not apply to Infosec Tests made by software to decrypt a code). The async may also use this ability to more easily learn new languages, reducing the training time by half.
Predictive Boost
Psi Type: Passive
Action: Automatic
Range: Self
Duration: Constant
The Bayesian probability machine features of the async's brain are boosted by this sleight, enhancing their ability to estimate and predict outcomes of events around them as they unfold in real-time and update those predictions as information changes. In effect, the character has a more intuitive sense for which outcomes are most likely. This grants the character a +10 bonus on any skill tests that involve predicting the outcome of events. It also bolsters the async's decision-making in combat situations by making the best course of action more clear, and so provides a +1 bonus to Initiative and +10 to Fray Tests.
Qualia
Psi Type: Active
Action: Quick
Range: Self
Duration: Temp (Action Turns)
Strain Mod: –1
The async can temporarily increase their intuitive grasp of things. In game terms, Intuition is raised by 5 for the chosen duration. This boost to Intuition also raises the rating of skills linked to that aptitude.
Savant Calculation
Psi Type: Passive
Action: Automatic
Range: Self
Duration: Constant
The character possesses an incredible facility with intuitive mathematics. They can do everything from calculate the odds exactly when gambling to predicting precisely where a leaf falling from a tree will land by observing the landscape and local wind currents. The character specializes in calculation involving the activity of complex chaotic systems and so can calculate answers that even the fastest computers could not, including things like patterns of rubble distribution from an explosion. However, this mathematic facility is largely intuitive, so the character does not know the equations they are solving, they merely know the solution to the problem.
This sleight also provides a +30 modifier to any skill tests involving math (which the character is calculating, not a computer).
Sensory Boost
Psi Type: Active
Action: Quick
Range: Self
Duration: Temp (Action Turns)
Strain Mod: –2
An async uses this sleight to increase their natural or augmented sensory perception (sight, audio, smell, augmented) by enhanced cerebral processing, granting a +20 bonus modifier on sensory-based Perception Tests.
Superior Kinesics
Psi Type: Passive
Action: Automatic
Range: Self
Duration: Constant
The async acquires more insight into people's emotive signals, gestures, facial expressions, and body language when it comes time to predict the person's emotional state, intent, or reactions. Apply a +10 modifier to Kinesics Skill Tests.
Time Sense
Psi Type: Active
Action: Automatic
Range: Self
Duration: Temp (Action Turns)
Strain Mod: –1
An async with this ability can slow down his perception of time, making everything appear to move in slow motion or at reduced speed. In game terms, this sleight grants the async a Speed of +1. This extra Action Phase, however, can only be spent on mental and mesh actions.
Unconscious Lead
Psi Type: Active
Action: Automatic
Range: Self
Duration: Temp (Action Turns)
Strain Mod: +0
This sleight allows the async to override their consciousness and let their unconscious mind take point. While in this state, the async's conscious mind is only dimly aware of what is transgressing, and any memories of this period will be hazy at best. The advantage is that the unconscious mind acts more quickly, and so the async's Speed is boosted by +1. The character remains aware and active, but is incapable of complex communication or other mental actions and is motivated by instinct and primitive urges more than conscious thought. Though it is recommended that the player retain control of their character while using Unconscious Lead, the gamemaster should feel free to direct the character's actions as they see fit.
Xeno-Empathy
Psi Type: Active
Action: Complex
Range: Self
Duration: Instant
Strain Mod: –1
An async with this sleight can attempt to gain an intuitive understanding of any non-human, non-terrestrial organism. If the character succeeds in an INT x 2 Test, they gain insight into the target's motivations, needs, and mental/emotional state (if sapient) or the target's ecological niche, instinctual drives, and likely behavioral responses (if non-sapient). Apply a +20 modifier to any Animal Handling, Deception, Intimidation, Kinesics, or Persuasion Tests made by the character against that organism. This sleight does not work on animals or smart animals of terrestrial origin.
Psi Gamma Sleights
Psi-gamma sleights deal with contacting (reading and communicating) and influencing the function of biological minds (egos within a biomorph, but also including animal life). Psi-gamma is only available to characters with Level 2 of the Psi trait. Most psi-gamma use is handled as an Opposed Test between the async and the target.
Alienation
Psi Type: Active
Action: Complex
Range: Touch
Duration: Temp (Action Turns)
Strain Mod: +0
Skill: Psi Assault
Alienation is an offensive sleight that create a sense of disconnection between an ego and its morph—similar to that experienced when resleeved into a new body. The ego finds their body cumbersome, strange, and alien, almost like they are a prisoner within it. If the async beats the target in an Opposed Test, treat the test as a failed Integration Test for the target. This effect lasts for the sleight's duration.
Aphasic Touch
Psi Type: Active
Action: Complex
Range: Touch
Duration: Temp (Minutes)
Strain Mod: +0
Skill: Control
With a touch attack, the async temporarily blocks or scrambles the language-processing centers in the target's brain. For the duration of the effect, the target cannot speak, initiate mesh actions, or otherwise communicate or read.
Charisma
Psi Type: Active
Action: Quick
Range: Touch
Duration: Temp (Minutes)
Strain Mod: –1
Skill: Control
The async uses this sleight to influence the target's mind on a subconscious level, so that the target perceives them to be charming, magnetic, and persuasive. If the async beats the target in an Opposed Test, they gain a +30 modifier on all subsequent Social Skill Tests for the chosen duration.
Cloud Memory
Psi Type: Active
Action: Complex
Range: Touch
Duration: Temp (Minutes)
Strain Mod: –1
Skill: Control
Cloud Memory allows the async to temporarily disrupt the target's ability to form long-term memories. If the async wins the Opposed Test, the target's memory-saving ability is negated for the duration. The target will retain short-term memories during this time, but will soon forget anything that occurred while this sleight was in effect.
Deep Scan
Psi Type: Active
Action: Complex
Range: Touch
Duration: Sustained
Strain Mod: +1
Skill: Sense
Deep Scan is a more intrusive version of Thought Browse (See Below), made to extract information from the targeted individual. If the Opposed Test succeeds, the async telepathically invades the target's mind and can probe it for information. For every 10 full points of MoS the async achieves on their test, they retrieve one piece of information. Each item takes one full Action Turn to retrieve, during which the sleight must be sustained. The target is aware of this mental probing, though they will not know what information the async acquired.
Drive Emotion
Psi Type: Active
Action: Complex
Range: Touch
Duration: Temp (Action Turns)
Strain Mod: –1
Skill: Control
This sleight allows the async to stimulate cortical areas of the target's brain related to emotion. This allows the async to induce, amplify, or tone down specific emotions, thereby manipulating the target. If the async beats the target in an Opposed Test, they will act in accordance with the emotion for the duration and under certain circumstances may suffer from certain penalties (up to +/–30), as determined by the gamemaster. For example, an async might receive a +30 Intimidation Test modifier against a target imbued with fear.
Ego Sense
Psi Type: Active
Action: Complex
Range: Close
Duration: Temp (Action Turns)
Strain Mod: –1
Skill: Sense
Ego Sense can be used to detect the presence and location of other sentient and biological life forms (i.e., egos) within the async's range. To detect these life forms, the async makes a single Sense Test, opposed by each life form within range. The async may suffer a modifier for detecting small animals and insects, similar to the modifier applied for targeting them in ranged combat; likewise, a modifier for detecting larger life forms may also be applied. If successful, the async has detected that the life form is nearby. Every 10 full points of MoS will ascertain another piece of information regarding the detected life: direction from async, approximate size, type of creature, distance from async, etc. The async will know if the target moves, if they do so during the sleight's duration.
Empathic Scan
Psi Type: Active
Action: Quick
Range: Close
Duration: Sustained
Strain Mod: –2
Skill: Sense
Empathic Scan enables the async to sense the target's base emotions. If the async wins the Opposed Test, they intuitively feel the target's emotional current state for as long as the sleight is sustained. At the gamemaster's discretion, this knowledge may provide a modifier (up to +30) for certain Social skill tests.
Implant Memory
Psi Type: Active
Action: Complex
Range: Touch
Duration: Instant
Strain Mod: +0
Skill: Control
An async using this sleight can implant a memory of up to an hour's length inside the target's mind. This memory very obviously does not belong to the target—there is no way they will confuse it for one of their own. The intent is not to fake memories, but to place one of the async's memories in the target's mind so that the target can access it just like any other memory. This can be useful for "archiving" important data with an ally, providing a literal alternate perspective, or simply making a "data dump" for the target to peruse. Implant Memory requires an Opposed Test against unwilling participants. At the gamemaster's discretion, particularly traumatic memories might inflict mental stress on the recipient.
Implant Skill
Psi Type: Active
Action: Complex
Range: Touch
Duration: Temp (Action Turns)
Strain Mod: +0
Skill: Control
Similar to Implant Memory, this sleight allows the async to impart some of their expertise and implant it into the target's mind. For the duration of the sleight, the target benefits when using that skill. If the async's skill is between 31 and 60, the target receives a +10 bonus. If the async's skill is 61+, the target receives a +20 bonus. Implant Skill requires an Opposed Test against unwilling participants. In some cases, the target has been known to use the skill with the async's flair and mannerisms.
Mimic
Psi Type: Active
Action: Quick
Range: Close
Duration: Instant
Strain Mod: +0
Skill: Sense
In a setting where changing your body and face is not unusual, people learn to recognize habits and personality quirks more often. The async must use this sleight on a target and succeed in a Success Test. If successful, the async acquires an "imprint" of the target's mind that they can take advantage of when impersonating that ego. The async then receives a +30 bonus on Impersonation Tests when mimicking the target's behavior and social cues.
Mindlink
Psi Type: Active
Action: Quick
Range: Touch
Duration: Sustained
Strain Mod: +1/target after first
Skill: Control
Mindlink allows two-way mental communication with a target. This may be used on more than one target simultaneously, in which case the async can act as a telepathic "server," so that everyone mindlinked with the async may also telepathically communicate with each other (via the async, however, so they overhear). Language is still a factor in mindlinked communications, but this barrier may be overcome by transmitting sounds, images, emotions, and other sensations. Mindlink requires an Opposed Test against unwilling participants.
Omni Awareness
Psi Type: Active
Action: Quick
Range: Close
Duration: Temp (Minutes)
Strain Mod: –1
Skill: Sense
An async with Omni Awareness is hypersensitive to other biological life that is observing them. During this sleight's duration, the async makes a Sense Test that is opposed by any life that has focused their attention on them within the sleight's range; if successful, the async knows they are being watched, but not by whom or what. It does, however, apply a +30 Perception bonus to spot the observer. This sleight does not register partial attention or fleeting attention, or simple perception of the async, it only notices targets who are actively observing (even if they are concealing their observation). This sleight is effective in spotting a tail, as well as finding potential mates in a bar.
Penetration
Psi Type: Active
Action: Quick
Range: Touch
Duration: Instant
Strain Mod: 1 per AP point
Skill: Psi Assault
Penetration is a sleight that works in conjunction with any offensive sleight that involves the Psi Assault skill. It allows the async to penetrate the Psi Shield of an opponent by concentrating their psi attack. Every point of Armor Penetration applied to a psi attack inflicts 1 point of strain. The maximum AP that may be applied equals the async's Psi Assault skill divided by 10 (round down).
Psi Shield
Psi Type: Passive
Action: Automatic
Range: Self
Duration: Constant
Psi Shield bolsters the async's mind to psi attack and manipulation. If the async is hit by a psi attack, they receive WIL ÷ 5 (round up) points of armor, reducing the amount of damage inflicted. They also receive a +10 modifier when resisting any other sleights.
Psychic Stab
Psi Type: Active
Action: Complex
Range: Touch
Duration: Instant
Strain Mod: +0
Skill: Psi Assault
Psychic Stab is an offensive sleight that seeks to inflict physical damage on the target's brain and nervous system. Each successful attack inflicts 1d10 + (WIL ÷ 10, round up) damage. Increase the damage by +5 if an Excellent Success is scored.
Scramble
Psi Type: Passive
Action: Automatic
Range: Self
Duration: Constant
Scramble allows the async using the sleight to hide from another async using the Ego Sense or Omni Awareness sleights. Apply a +30 modifier to the defending async's Opposed Test.
Sense Block
Psi Type: Active
Action: Complex
Range: Touch
Duration: Temp (Action Turns)
Strain Mod: –1
Skill: Psi Assault
Sense Block disables and short circuits one of the target's sensory cortices (chosen by the async), interfering with and possibly negating a specific source of sensory input for the chosen duration. If the async beats the target in the Opposed Test, the target suffers a –30 modifier to Perception Tests with that sense equal (doubled to –60 if the async scores an Excellent Success).
Sense Infection
Psi Type: Active
Action: Complex
Range: Close
Duration: Instant
Strain Mod: –1
Skill: Sense The async may determine whether a target is infected with a biological nanovirus or nanoplague strain of the exsurgent virus with a Sense Test. If successful, the character automatically knows if the target is an async. Other strains of the virus may, at the gamemaster's discretion, provide a foreboding of their modus operandi. In no case is the name of the strain revealed (strains are named by Firewall, not by themselves), but research or inquiries with the Eye might allow the character to identify the feeling they get with a known, named strain.
Spam
Psi Type: Active
Action: Complex
Range: Touch
Duration: Temp (Action Turns)
Strain Mod: +0
Skill: Psi Assault
The sleight allows the async to overload and flood one of the target's sensory cortices (chosen by the async), spamming them with confusing and distracting sensory input and thereby impairing them. If the async wins the Opposed Test, the target suffers a –10 modifier to all tests the duration of the sleight (doubled to –20 if the async scores an Excellent Success).
Static
Psi Type: Active
Action: Complex
Range: Close
Duration: Sustained
Strain Mod: +0
Skill: None
The async generates an anti-psi jamming field, impeding any use of ranged sleights within their range. All such ranged sleights suffer a –30 modifier. This sleight has no effect on self or touch-range sleights.
Subliminal
Psi Type: Active
Action: Complex
Range: Touch
Duration: Instant
Strain Mod: +2
Skill: Control
The Subliminal sleight allows the async to influence the train of thought of another person by implementing a single post-hypnotic suggestion into the mind of the target. If the async wins the Opposed Test, the recipient will carry out this suggestion as if it was their own idea. Implanted suggestions must be short and simple; as a rule of thumb, the gamemaster may only accept suggestions encompassed by a short sentence (for example: "open the airlock," or "hand over the weapon"). At the gamemaster's discretion, the target may receive a bonus for resisting suggestions that are immediately life threatening ("jump off the bridge") or that violate their motivations or personal strictures. Suggestions do not need to be carried out immediately, they may be implanted with a short trigger condition ("when the alarm goes off, ignore it").
Thought Browse
Psi Type: Active
Action: Complex
Range: Touch
Duration: Sustained
Strain Mod: –1
Skill: Sense
Thought Browse is a less-intrusive form of mind reading which scans the target's surface thoughts for certain "keywords" like a particular word, phrase, sound, or image chosen by the async. Rather than digging through the target's ego as with the Deep Scan sleight, Thought Browse merely verifies whether a target has a particular person, place, event, or thing in mind, which can be used by a savvy investigator to draw conclusions without the need to invade the mind directly. Thought Browse may be sustained, allowing the async to continue scanning the target's thoughts over time. The async must beat the target in an Opposed Test for each scanned item.
Playing Asyncs
Asyncs have powers that are inaccessible to other characters. Though these abilities may seem a bit like magic, playing an async is not like playing the wizard in other games, as these powers come at a high cost. The vast majority of asyncs do not choose to become infected with Watts-MacLeod, it is forced upon them. Those who do deliberately expose themselves to the virus soon learn the error of their ways. The minds of all asyncs are blasted open to the fundamental forces of the universe that lie outside the ken of transhumanity, eroding their sanity and very sense of self.
The origin of an async's powers is as important to the character as being able to use them. In Eclipse Phase, an async may be the closest a player can come to playing an alien. While asyncs are of the same transhuman background of all other characters, they have experienced something few in universe have been exposed to—and survived. They are not cured of their contact with the exsurgent virus, and they will always carry it around with them. The virus is, to some extent, aware of its host as well. In addition to bestowing the benefits that creates the asyncs, the virus alters the perception of its host, showing them things not meant to be seen and allowing them to experience the universe in a distinctly non-human manner. This new way of seeing the world can take it toll, shaking the foundation of their sanity. The mental instability and madness that plagues most asyncs, however, is not the same caliber of trauma other transhumans experience—it stems from exposure to something truly alien, and alienating, in its un-humanity. Though the exact mechanisms of their troubled minds vary from async to async, a common occurrence is to suffer from extrasensory inputs, phantom sensations, and unusual urges. Many acquire a feeling of detachment from the world around them, or become unable to interact with others without seeing them as hideous gibbering blobs of pulsating meat. Some asyncs come to distrust that what is happening to them in any given moment is real. This makes asyncs more prone to mental breakdown since even routine activities may carry with them truly alien experiences and impressions.
Becoming an Async
Many people infected by the Watts-MacLeod exovirus do not understand what has happened to them and openly seek help. Most of these individuals usually vanish, either eventually being restored from an older backup or taking on a new life as a secretive, and often involuntary, recruit of some organization or other. Most people at least understand that they survived an infection with something like a TITAN nanoplague, however, and after a bit of careful research understand that their freedom and in some places their lives depend upon keeping their new abilities secret. This often leads to a fully justified sense of paranoia on the part of asyncs, desperate to keep the truth of their condition secret.
Secrets are very difficult to keep in the post-Fall solar system. Anything almost anyone does in public is recorded on a multitude of cameras, and everything from mesh activity to morph choice is tracked by someone. Also, most of the solar system is still at least somewhat paranoid about exsurgents and exsurgent infections, though most of transhumanity remains ignorant of this threat and tends to view such infections as signs of TITAN aggression. However, every async not only has a secret, but they have a secret that could get them quarantined, involuntarily recruited, or killed almost anywhere in the solar system. Fortunately, being an async is also exceptionally hard to detect. Despite being caused by a variant of the exsurgent virus, the virus is only detectable in the few days immediately after the infection takes place, while it is still altering the individual's brain—or by certain other asyncs with the talent to detect their fellows.
A number of asyncs were initially infected during the Fall or immediately afterward. Many are lucky that their medical records were lost to the chaos of the times. Others have gone to great lengths to make sure that any records of their infection were destroyed or altered, usually by employing a hacker, bribery of the right people, or other less-than-legal means. Others have relied on the fact that infection is virtually impossible to detect in any scientifically verifiable manner and submitted themselves to medical exams that "prove" they are asymptomatic, thus alleviating any suspicion their previous records may have cast upon them. A large number simply never reported the incident and thus have no records to hide.
After the Fall, most habitats practice more careful medical monitoring. Any medical practitioner is likely to detect Watts-MacLeod and similar exoviruses if they examine a patient in the first few days of infection. Though they are unlikely to know about the exsurgent virus specifically, they will recognize the signs of a hostile nano-infection similar to nanoplagues released by the TITANs during the Fall, and will thus be obligated to inform the authorities. Likewise, many habitats automatically scan their biomorph populations in public areas for signs of infection (thermal scans to detect fever and elevated body temperatures, etc.) and run nanodetectors for traces of hostile nanoswarms. In most habitats, any form of suspected TITAN infection is grounds for immediate quarantine and destruction of both ego and morph, followed by resleeving a backup of the individual made before the infection. This means that any async character who's background suggests more recent infection must have been infected in circumstances where the virus was not detected during the few days it was active. Some habitats simply lack the sophisticated and ubiquitous monitoring necessary to detect active Watts-MacLeod infection or eschew such detection measures as invasive of privacy. Also, characters in remote locations like the Martian wilderness, Kuiper Belt, Saturn's rings, or small asteroids could have caught the Watts-MacLeod infection without anyone noticing.
Complicating matters is the fact that many victims are unaware that they have been infected at first. The physical signs are easy to overlook, especially in a chaotic or otherwise dangerous situation. By the time the async first starts to feel the effects of their altered mind or first becomes aware of the ubiquitous "presence" that so many of them sense, the nanobots may already have been flushed from their system. Many asyncs undoubtedly remain unaware for years afterward, having never gained a grip on their powers and misdiagnosing their ailments as mental disorders.
The actual source of infection can be equally mysterious. Some asyncs are created by exposure to the remains of exsurgent nanotechnology lying dormant in sparsely inhabited regions of the Lunar surface, the edges of the Titan Quarantine Zone on Mars, or derelict habitats. Others catch it from someone else with an active infection, or unknowingly sleeve into a recently infected morph, though asyncs are only contagious for a short time. In some cases, asyncs are created by deliberate infection by an unknown individual or group—as can be testified by the Lost Generation. Some characters, of course, deliberately infect themselves. The vast majority of transhumans have no interest in infecting themselves with even a seemingly benign version of an exsurgent virus. However, a few overly curious researchers, desperate individuals, terminally bored posthumans, or people seeking an edge over their rivals, who happen to know the truth about Watts-MacLeod, are willing to take unreasonable chances, at least after making a pre-infection backup.
For those looking to have a bit more conspiracy and built-in drama, the character may have been infected in a large, populated habitat, like a Lunar city or Morningstar Constellation aerostat, where their infection should have been detected by the habitat's monitoring systems or their doctor's examinations. Along with developing a set of strange powers and mental instability, the character must then grapple with the likelihood that someone with a great deal of control or influence actively hid the character's infection. Perhaps the character has a secret mentor or is now being blackmailed and forced into performing services someone by someone who understands the powers that asyncs possess. Alternatively, there may be a group of asyncs who look out for their own in that habitat and try to make certain that none of their kind are discovered there.
Relationship with the Virus
Asyncs are an exceedingly diverse group, and their personal reactions to their infections vary wildly. Some are initially extremely pleased with their new abilities and either regard the virus as a significant, if risky, boon or as something that allows them to become more and better than other transhumans. Some of these asyncs go so far as to dismiss or greatly downplay the problems that becoming an async has caused them, however they typically become less enthusiastic about their abilities over time, as their sanity erodes. Others, however, are horrified at what they have become. Some of these asyncs become increasingly insistent than a conscious alien entity now shares their mind.
While a whole range of reactions are possible, most asyncs remain acutely aware that were infected with a strain of the exsurgent virus. Almost everyone who survived the Fall has heard rumors and horror stories about the TITAN plagues that transformed people into deadly inhuman monsters—or perhaps they even witnessed such things with their own eyes. Asyncs obviously didn't succumb to that fate, but many are waiting for the other shoe to drop. They believe they are living on borrowed time, a feeling often reinforced by the strange sensations and urges they experience. Particularly crazed asyncs sometimes succumb to a type of megalomania, believing they were incredibly lucky or blessed, and are now superior to most other transhumans due to the effects of the virus—perhaps even the first of a new posthuman species. One of the stranger and more common reactions to becoming an async is denial. These asyncs convince themselves that they simply experienced a strange illness that they completely recovered from. They rationalize any problems sleeving in synth or pod morphs as a problem with integration and decide to always sleeve in biomorphs to avoid further issues. They rationalize away their use of psi-chi sleights, convincing themselves that they are simply unusually intelligent or perceptive. A few even find convenient explanations for their active use of psi-gamma sleights, deluding themselves that they possess some sort of supernatural talent provided to them by a divine agency or some other means. Others are simply oblivious to the realities of what is going on, or actively suppress their own awareness about them, and so interpret the use of sleights in creative ways. Instead of realizing they are reading someone's thoughts, they simply believe they have incredibly reliable and intuitive hunches about what some people are thinking.
The worst-off asyncs are those who understand what has happened to them and both hate and loath what they have become. Unfortunately, the options for ceasing to be an async are far from pleasant. Some people are willing to kill themselves and have themselves resleeved from a pre-infection backup. Given how much time has passed, however, they may find this a daunting and unpleasant task far too similar to actual suicide. Some asyncs can only guess when they were infected, and the idea of restoring to a previous backup with extensive lack and then, if they didn't go far enough back, potentially reliving the process of becoming aware of the infection again is too depressing. Another option is to fork themselves and neurally prune it until it ceases to be an async. Unfortunately, this process inevitably creates a beta fork, and even this occasionally fails. Some have attempted to merge this pruned beta fork with a pre-infection backup, but this process requires the sort of cold-blooded determination that many transhumans lack, especially people who have just undergone a horrific experience and are suffering various forms of psychological damage. Instead, such people may fervently wish that they were no longer asyncs, but can't bring themselves to undergo the drastic loss of continuity that any such effort would involve.
A surprising number of asyncs take a fatalistic approach and refuse to make new backups, knowing that eventually bad luck will accomplish what they cannot deliberately do. Some of these self-loathing asyncs regularly use their special abilities, but doing so always reminds them of what they have become.
Ultimately, most asyncs find some way of coping with their ongoing existence, even if it's simply avoidance. A number manage to become comfortable with their abilities, particularly those who undergo training and/or put their sleights to what they consider a positive use. A few embrace or otherwise come to terms with the otherworldly presence in their heads, treating it as a monster to unleash when needed or a dark aspect of their own personality. Some go so far as to develop a relationship with their "dark passenger," going so far as to treat it like quiet, omnipresent muse or even have conversations with it—or with apparitions they claim to experience.
Relationship with Other Asyncs
Given the self-preserving need for secrecy, many asyncs do not know any other asyncs—and may not even know that other asyncs exist. A few with the right sleights have detected the presence of others like themselves, but such encounters are dangerous affairs. Most asyncs are unwilling to reveal their true nature to a stranger, and some are so concerned about their own safety that they have murdered other asyncs they encountered out of fear they were detected—or because they were convinced the other was as monstrous as they considered themselves. This desire for self-preservation is often outweighed, however, by the euphoria of finding someone else like them and the possibility of sharing experiences and finding answers.
Various asyncs have made efforts to make contact with others of their kind, usually by leaving various cryptic messages in online forums. Some are even careful enough so that the only people who know enough to respond to these messages correctly are other asyncs. Asyncs with the pattern recognition or savant calculation sleights are usually the most successful at this, because they can leave messages that only someone else with the same sleight can notice or understand. At least one group of asyncs has even created several reasonably popular mesh videos that contain embedded steganographic messages that only someone with one of these sleights will perceive.
The caution exercised by asyncs that are reaching out to others is usually justified. A number of hypercorps and other groups that are aware of the existence of asyncs actively keep an eye out for new ones to capture them for study, recruit them (often involuntarily), or destroy them as an x-risk. Many of these groups use their own pet asyncs to find or lure new asyncs in. A few unaligned asyncs have managed to come together and form their own groups. These are rarely large in size, usually just three or four asyncs that come together and share experiences, but a few may have a dozen members or more. People who have had a strange experience that compromised their sanity and who face either face serious social and legal problems or mysteriously vanish if their status is revealed are not inclined to be particularly trusting. While many asyncs find both comfort and mutual assistance when working with others of their kind, most prefer to prevent more than a handful of people from ever knowing about their strange abilities. Asyncs who belong to these small groups, however, can help each other learn how to use their unusual abilities and work together to keep their presence hidden from others. A small number of these groups have grown large enough and developed an agenda to be considered a threat. Firewall has squashed more than one async cell that was using their sleights for criminal purposes or even seeking ways to infect others and create more asyncs.
How Infection Changes Them As People
The most obvious personal change that all asyncs go through is to become more secretive. In order to protect themselves, they must keep their true nature hidden. Some asyncs trust their loved ones and closest colleagues with the truth. This is most common among asyncs who are part of a close-knit team, like a group of experienced gatecrashers or mercenaries. Many others tell no one, however, unless they happen to encounter another async they believe they can trust. Individuals who previously enjoyed casually sharing memories and enjoying various euphoric drugs usually cease doing both, because they don't wish to accidentally reveal anything about their abilities or place themselves in a state where they might be less careful. Many long-time asyncs have the Information Control trait, because secrecy and maintaining control of information about themselves has become second nature.
The most important aspect of becoming an async can be how the character copes with the various mental and social changes. A few exceedingly resilient people who had relatively safe and stable lives prior to infection tackle the problem head on, pursuing psychotherapy to handle their mental troubles and doing what they can to learn how to use and control their new abilities. However, most of the solar system's inhabitants are not nearly this lucky. Many asyncs are relatively poor Martians who struggle to come up with the money for the periodic GSPs their morph required and were worried about the Planetary Consortium's intrusive surveillance well before they were infected with an exsurgent virus. Social, physical, and financial stress makes becoming an async considerably more difficult, and for relatively poor Martians and others in similar straits, the secrecy necessary to avoid detection is considerably more difficult and stressful. Also, in places where alleged rebels or exsurgents simply vanish, the danger of discovery is disturbingly obvious.
Of course, some people who are relatively comfortable and well off also have a great deal of trouble when they become an async. Strange powers, secrecy, and sudden insanity do not fit well into the confines of the stable life of a moderately well-off resident of Luna, Titan, or a prosperous habitat. The social expectations and the web of community, filled with gossip and few expectations of privacy, are a very poor fit for someone who wishes to keep important facts secret and perhaps discretely explore the truth about their new condition. People in this sort of situation have a great deal to lose. Some attempt to deny that anything has changed about them, and continue hiding until someone discovers them, others become weary of the secrecy and abandon their life and home for a new existence involving fewer roots and a great deal more privacy.
Eventually, most asyncs learn how powerful and useful some of their new abilities can be and exploit them. If the sleights are useful, it will be a particular challenge for the character not to use them in the course of their current profession or hobbies. Despite various urban legends to the contrary, very few asyncs decide to run wild and attempt to mind control one of the hyperelite into giving them a spaceship or become deadly assassins who kill victims with their minds. However, becoming an async also always gives the person various mental problems. Some of these disorders manifest as delusions of grandeur, paranoia, or similar derangements that drive the individual to perform extreme acts. While the least careful of these individuals end up in the hands of local law enforcement personnel or powerful groups who come and collect async offenders, most either resist the urge to commit crimes or are sufficiently careful and clever that they avoid being caught.
Players looking to play an async should discuss with their gamemaster and the other players how best to approach the secrecy and paranoia that come with being an async. In general, we advise including at least some of your fellow characters in on the secret if not all of them. While playing the mysterious stranger with a dark secret can be fun at times, it can also place a strain upon groups where players may find it difficult or implausible to believe that their characters could be ignorant to the nature of one of their close colleagues, sparking internal tensions. For some groups, this can be a rich source of roleplaying, but for others it creates unwanted tension at the table. Playing an async should not be an excuse to be the special snowflake that gets more attention than other players; it should add to the gaming experience, not detract.
Asyncs provide a rich potential for roleplaying an interesting character in the Eclipse Phase setting. For those that want to access some of the more truly alien, and alienating, aspects of the game, an async provides an excellent entry point to both the deep existential horror that lurks in the wider universe and the depths to which transhumanity will go in turning against itself against threats both perceived and real.
Watts-MacLeod Disorders
The following disorders are specific to Watts-MacLeod infection and should be assigned only to asyncs. They may be purchased at character creation (as part of the Mental Disorder trait acquired with the Psi trait) or acquired later during game play. At the gamemaster's discretion, these may also be used as derangements.
Many of the other disorders described in Mental Health_1e#Disorders, are particularly appropriate to asyncs, including borderline personality disorder, hypochondria, megalomania, multiple personality disorder, and schizophrenia.
Alien Behavioral Disorder
The character has strange urges to behave in an alien fashion. They may feel a weird compulsion to burrow, the sensation of urgently needing to lay eggs without any means to fulfill this urge, an instinct to gesture with or clean phantom appendages that don't map in any way to their anatomy, or a desire to eat substances that would be non-nutritive or even dangerous to terrestrial animal life.
Suggested Game Effects: Under stress, the character exhibits the symptoms of the impulse control disorder, but the behavior on which they feel the need to act is something wholly inhuman. Because some of the urges on which they feel impelled to act are anatomically impossible, the character may seek out unusual augmentations or even self-mutilate in the attempt.
Alien Sensory Disorder
The character's mind attempts to use an alien sensory organ the character doesn't have, becomes confused, and as a result may short-circuit the neural pathways of existing sense.
Suggested Game Effects: If the async rolls a critical failure on the use of a psi sleight or if they take more than 3 DV from a single use of a sleight, there's a 50% chance that instead of taking the damage, one of their basic 5 senses, determined at random, is temporarily disabled. The sensory organs themselves continue to function; the effect is at the interface between sensory input and the brain. Therefore, implants using that sense are also disabled. For example, if sight is lost, the effect is to the visual cortex of the brain, so the character loses input from cybernetic eyes and the ability to view visual augmented reality input. The virus will re-route around the disabled sense in 1d10 ÷ 2 hours, but during this time, the character may receive disturbing phantom feedback on the new sensory channel.
Cosmic Anxiety Disorder
Faced with the possibility of an incomprehensibly advanced alien civilization exterminating transhumanity from afar, the sufferer exhibits symptoms of extreme anxiety or even phobias. The symptoms may overlap with general anxiety disorder and be treated as such. Other characters may suffer from panic attacks or reactions of extreme terror when confronted by the reality of advanced alien civilizations.
Suggested Game Effects: When faced with TITAN artifacts or war machines, the character may experience panic attacks where they tremble or have difficulty breathing, leaving them unable to act. Alternately, they may exhibit terror, fleeing from the stimulus.
Species Dysmorphia
The alien stirrings of the Watts-MacLeod virus have left the character convinced that they are something other than transhuman, an alien being trapped in a body of terrestrial origin.
Suggested Game Effects: Very similar to body dysmorphia, except that the character's desire is to emerge as an alien being. The character has difficulty when resleeving (–10 to –30 on Alienation Tests if the morphs is not alien enough) and may seek out exotic body modifications in a quest to become more "alien."
Community content is available under
CC-BY-SA
unless otherwise noted.